You've carefully crafted an email to your supporters. You're hoping it gets your message out there and drums up support, and everyone's already signed off on it. You think the design and content are top-notch, and you're hoping for good click and open rates. You hit send.
How sure are you that this email is actually going to end up in your recipients' inboxes?
If you're putting effort into strong email marketing, you better make sure your email at least has the potential to be read. This blog post will teach you why your emails might land in spam, how you can tell, and what you should do about it.
One day I opened up my spam folder, just to make sure nothing important had slipped through the cracks and this is what I found:
See when I started this job I signed on to some large nonprofits' email lists, just to get a sense of what people were doing to cultivate and solicit donations from their email supporters. Some nonprofits' emails have never gone through or only rarely go through, as you can see in the screenshot above.
Other nonprofits' emails always go through – I'm getting emails from the Southern Poverty Law Center and the Human Rights Campaign weekly if not more frequently. And they have the same frequency and the same variation in sender names as those emails ending up in my spam folder as you can see in the two screenshots of my inbox below.
So why do emails end up in spam?
This is an overview of why emails end up in spam. Your digital and email marketing teams should be very familiar with what causes emails to be triggered as spam. This is just a brief list of some reasons this happens to get you up to speed. We got a lot of the below advice from OptinMonster.
1. Issues with your email list
Low engagement rates (nobody is reading your emails).
Your subscribers didn't actually subscribe, or they don't remember subscribing.
You're sending to a lot of inactive email addresses. You might get bounce-backs like this one:
2. Issues with your email content
You're not including a physical address. This is a huge one! The CAN-SPAM Act legislates commercial emailing and legally requires a physical mailing address for all commercial emails. Non-profits are not exempt from these requirements, but most of their emails wouldn't count as "commercial" and thus wouldn't fall under the regulations of this Act. However, from a spam filtering perspective it is prudent to include a physical mailing address in all your emails anyways, to reduce the chances that this is triggering your email as spam. More info on the CAN-SPAM Act for non-profits can be found here.
You're not including a link that lets recipients unsubscribe.
You use "spammy" words.
You are getting way too fancy with your HTML such that the email is not mobile-optimized and doesn't render well across devices and load speeds (see below)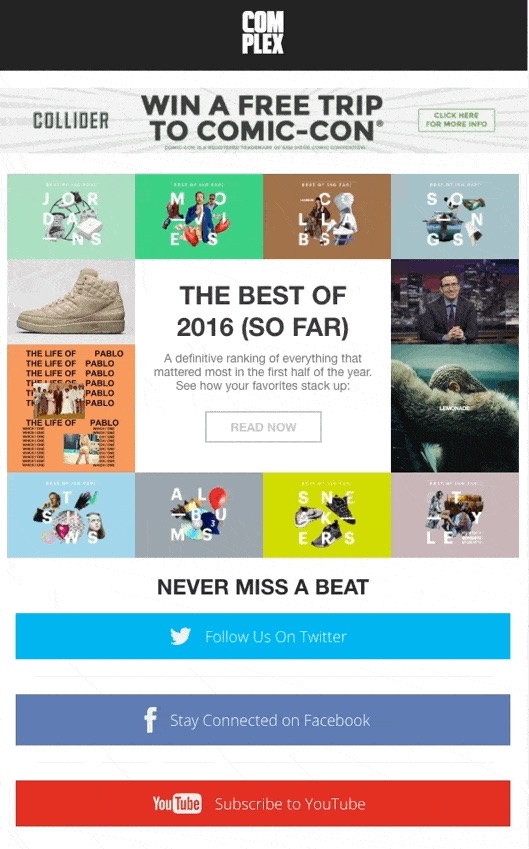 So how can I tell if my emails are ending up in spam?
Tip 1: Create test email addresses
First things first, we recommend setting up a variety of email addresses to use for testing how an email will appear in someone's inbox. There are free tools that help render this for you, and your email client might already have one. However it's still good to have a suite of email addresses (one each for Gmail, Yahoo, and Hotmail at the very least) where you can test actual deliverability prior to sending your email out to your entire email list.
Tip 2: Run past emails through a spam-checker and identify relationships between "spammyness" rating and open and click-through rates.
Second, try sending a few past emails to Mail Tester. Mail Tester is a free service that identifies areas for improvement and rates your email based on its "spammyness." By sending past emails to Mail Tester you can try and correlate the spammyness rating with your recorded open and click rates. Does the spammyness rating seem related to how many clicks and opens you got? Do some data analysis and run a linear model or t-test if you're able to. If your click and open rates are related to your spammyness rating, you'll know it's very important to focus on improving this rating for future emails. You'll also develop an understanding of what seems to trigger spammyness for your emails and therefore what to avoid.
What should I do to make sure my emails land in people's inboxes?
Tip 1: Run through a spam-checker
Run your email through a spam-checker like Mail Tester as part of your quality assurance review process before each email goes out.
Tip 2: Use a double opt-in
Have people "double" opt-in to receiving your emails. Instead of automatically subscribing people when they sign up to receive your newsletter on your site, send them an email asking them to confirm their interest in subscribing to your content. This second opt-in confirms that a person is using this email address and thus it is active. It also inherently helps your deliverability to this individual because they've opened and interacted with at least one email from your domain. This makes your domain look good to spam filters, making it more likely you'll land in the inbox rather than the spam folder.
Tip 3: Delete inactive subscribers
Clean your email list of inactive subscribers. If you're getting bounce-backs from inactive addresses, take the time to collect and consolidate those and then remove them from your lists.
Tip 4: Treat your email subscribers with respect
And then just send emails that respect your email subscribers! Make the email feel like it's coming from a real person! You're obviously not going to send emails like this one I dug out from my spam folder (lol).
But there are other, less obvious ways you can make an email sound more personal. We recommend reducing the graphics in your emails because extraneous graphics make the recipient feel like they're being marketed to rather than being spoken to. Making your emails read more like they're from a real person, including sending simple text-only emails and taking a conversational tone, increases the sense of relationship between them and your organization. Don't use subject lines or language that tries to trick your subscribers or could be considered "click-bait." This not only decreases your email's deliverability, it also harms the relationship you have with your email subscribers.
Your emails will make a much larger impact if they actually wind up in recipients' inboxes instead of their spam folders.
You can't afford to neglect this part of your email strategy so use these tips as soon as you can! You can tweet at us @creativesci if you have any questions.