Personalization is a simple way to inject some behaviorally informed thinking into your email cultivation and solicitation strategy. Personalization is also something nonprofit professionals figured out works a long time ago, despite not knowing that there's science to back it up.
So hopefully you've got people's email addresses matched tidily up to their first and last names and you have absolutely no missing data. Oh what's that? Your supporter file doesn't look quite that clean? Weird.
Just kidding! Most data is messy and takes a lot of time to parse through, particularly if it's been collected over the span of years and perhaps multiple different CRMs. This is the reality for most nonprofits.
Today's 1 quick tip to increase your email open and click-through rates is going to help you figure out how to use personalization despite your data's messiness.
First, let me give you a few examples of what can happen when you ignore messy data. Example #1:
Example #2: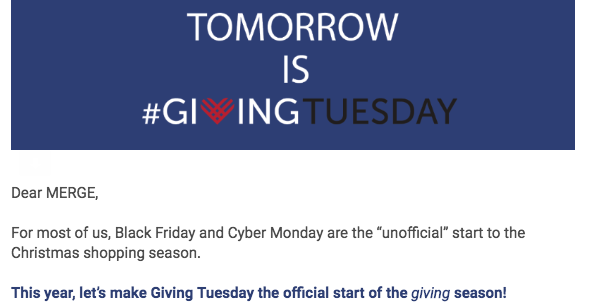 And Example #3:
What is the common theme between these three email examples? They all tried to personalize, and they stumbled a bit. The vast majority of the folks in these nonprofits' supporter file probably received an email addressed to them and didn't think anything of it. Except maybe "wow this feels personalized to me!"
But those of us who didn't give this nonprofit our name (like me), received quite a different message. Either: "we're not so great with technology, maybe you shouldn't trust us with your money" or even worse, "we don't care about you." The nonprofit wanted to give off the opposite impression. They wanted to give me the impression they cared about me specifically, we have a relationship, and that I should trust them. So where did they go wrong?
Or more importantly, how can you do it right–like the two nonprofits' emails below. These emails feels personal, intimate, and important.

This next email both addressed me in the greeting at the beginning and included my name farther down in the email. This is a great use of personalization by this nonprofit.
To increase your email success, you need to deal with the supporters in your file for whom you don't have a first name.
An easy response to missing data would be to skip using the first name for your entire roster of supporters. But that takes personalization out of your toolbox and decreases your ability to draw people in with your email salutation.
Another option would be to change your email greeting only for those people you don't have a first name for.
But instead, I've laid out three easy steps you can take to go beyond those simple solutions and really maximize your email's potential.
First, you need to find everyone who doesn't have a first name in your file. The first name field might be blank, it might be "NA" or "NaN" or "None," it might say "Anonymous" or "Unknown," or you might have a mix of all of these.
Don't panic! Run some numbers. What are the most common names in the first name field? This is likely to look like the "top 10 baby names" list from the decade the bulk of your donors were born in, but it should also include any placeholder names someone added at one time or another. Make sure you check to see if there are "NA"s as well because some software systems will save these in a format that doesn't make them visible when taking a look at the top names.
Second, change all these missing names to the same thing. Maybe you choose "Friend," "Supporter," "Hero," or something else that aligns with your nonprofit's brand and your chosen cause.
Third, double check that you did this correctly! Go through the same process as you did in Step 1. Your chosen placeholder should now rank even higher than it did before, as everything has been standardized.
Now you can mail merge and personalize your emails with ease! Collecting and updating first names that are missing is a sensical next step in the process. This will allow you to personalize your email cultivation and solicitation to more of your donor file. But you're not made of time so at least now you'll save yourself from some embarrassment.
Shoot me an email emily@creativescience.co if you have any questions or want to chat more about how you can improve your nonprofit's digital strategy.